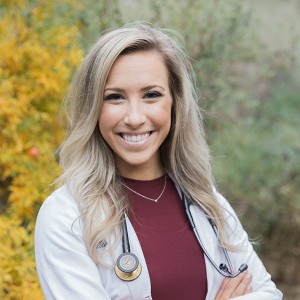 Dr. Haebe is a results driven provider, passionate to share the power and freedom of feeling and looking your best. She emphasizes the importance of a healthy lifestyle and creating balance in our lives mentally, physically and spiritually. She has extensive training in bioidentical hormone replacement therapy, endocrinology,  pain management (including prolo-therapy and PRP injection therapy) as well as medical aesthetics (including injectable fillers, PRP, hair-restoration and neuro-modulators).
Dr. Haebe believes that in order to obtain optimal wellness, it is essential to first identify the causes of disease. She focuses on actively listening to patients in order to best understand their story and needs while educating and working with the patient to generate a treatment plan that is customized just for them. She is a strong proponent of the patient-doctor relationship and with collaboration, the best results are achieved.
She grew up in Denver, CO and has always had a passion for helping others feel fabulous. While attending medical school she was Vice President of the student body and was awarded the esteemed Daphne Blayden Award in recognition of her positivity, loving sense of humor, compassion and academic excellence.